Protein and exercise are often spoken of in the same breath. We will look today at how much protein is in chicken along with other lean meat and fish.
We will also outline 6 great and tasty recipes so you can maximize your benefits after working out.
So…
Why do you need protein anyway and do you need more when you are exercising lots and hitting the gym several times a week?
Basics About Protein
Protein is a crucial nutrient which has several functions in the body. As well as building muscle, tissue and cells, protein also helps to makes antibodies and hormones.
Most people need something like 0.8g to 1g of protein per kilo of body mass. Active people engaged in a workout regime need more, though…
Endurance athletes:

1.2g – 1.4g per kg

Stength athletes:

1.2g – 1.7g per kg
When you exercise, you make tiny rips in your muscles. After working out, these muscles need to rest, recover and grow.
Shoot for 15-30g of protein within half an hour of finishing your session for optimum effects.
A normal, healthy diet should provide the standard recommended daily amount (RDA) of protein. Many western diets, though, are heavy on the carbs with protein-rich meals reserved for the evening.
For optimum results, spread your intake of protein throughout the day and focus on post-workout loading to promote muscle growth. You need more than the RDA if you're pounding the pavement or pumping iron to help those muscles get bigger and to stay healthy in general.
If you are wondering how much protein is in chicken or turkey then check out this brief breakdown of protein sources:
Some Great Sources of Protein
Chicken and Turkey: Opt for lean animal protein from these two white meats. Just 4 ounces of chicken will deliver half your RDA of protein

Fish and Seafood: Great sources of protein while low in fat. Salmon is also high in omega-3 fatty acids which helps with some inflammatory diseases

Eggs: There are 6g of protein in a single medium egg. Omelets are wonderful before or after working out

Milk: Chocolate milk is ideal for recovery containing both protein and carbs

Beans or Pulses: If you are on a budget then get some protein through beans and pulses along with a good dose of fiber

Nuts: Pistachio nuts are particularly beneficial with just 50 delivering around 6g of protein. They also contain potassium and sodium, electrolytes which you lose while sweating

Pork: Port is one of the best ways to take leucine on board. This is key for muscle recovery
We have chosen 6 recipes here which will give you all the protein you're looking for and ensure that your muscles recover as they should.
This selection of meals focuses on chicken, turkey and salmon. Just because you need to consume protein, there's absolutely no reason to get bored!
1.Baked Honey Mustard Chicken
via https://www.jessicagavin.com/
This dish is extremely easy to prepare so don't worry if you lack skills in the kitchen or lead a busy life. Mix up the marinade and leave it to bake for an hour and you can enjoy a real boost of protein with some delicious flavors coming through.
Protein Per Serving: 41g
Ingredients
Chiecken breasts (4)

Honey (1/4 cup )

Mustard (1/4 cup )

Basil (1tbsp)

Smoked paprika (1 tbsp)

Fresh lemon juice (1 tbsp)

Salt and black pepper
Directions
Preheat your oven (375F)

Rinse chicken breasts, pat dry and pop in large glass dish. Season

Stir other ingredients up in a bowl and pour them over the chicken. Flip the breasts to coat them fully

Cook 45-50 mins. Halfway through turn and baste
2. Kale Chicken With Sundried Tomatoes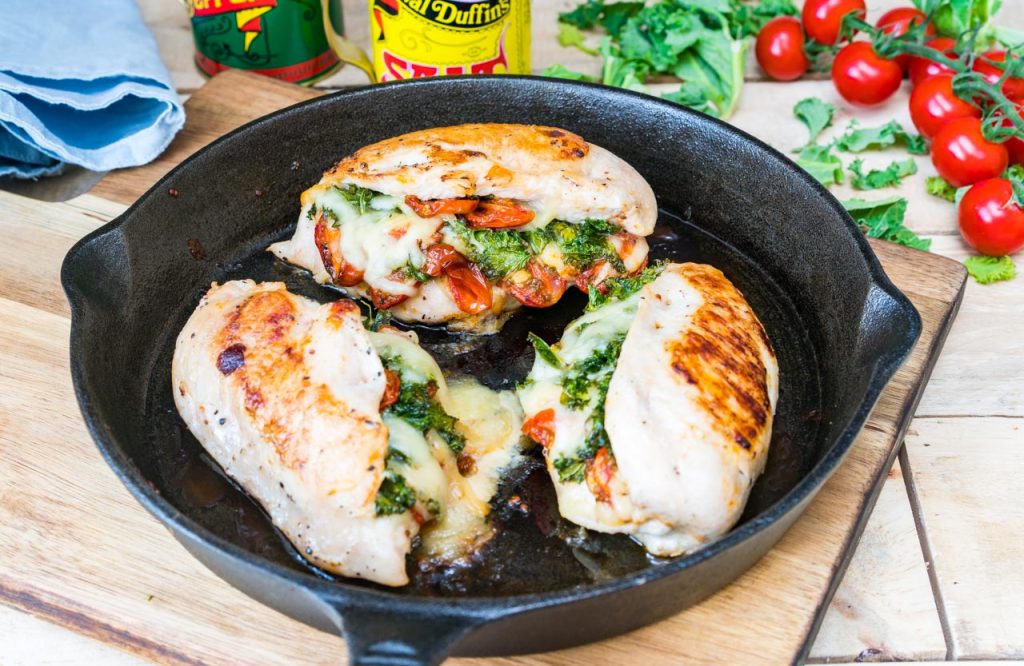 via https://cleanfoodcrush.com/
If you want some lean protein with a burst of flavor then check out this fuss-free chicken stuffed with kale.
Kale is a superfood and accompanies sundried tomatoes perfectly. Goat's cheese is added to really set your taste buds tingling.
Protein Per Serving: 49g
Ingredients
Chicken breasts (4)

Extra virgin olive oil (1 tbsp)

Goat's cheese (1/3 cup)

Kale (1 head, stemmed and finely chopped)

Basil (1 tbsp)

Sundried tomatoes (1 cup)

Salt and black pepper
Directions
Preheat your oven (400F)

Put kale in large pot. Add the olive oil and water (1/2 cup) then cover and steam on medium heat 2 mins

Slice the chicken breasts in half, pound them thin

Top chicken with goat's cheese, kale and sundried tomato mix

Roll pieces up and pop seam-side down on baking dish. Season

Cook 20-25 mins

Serve with rice
3. Turkey Burrito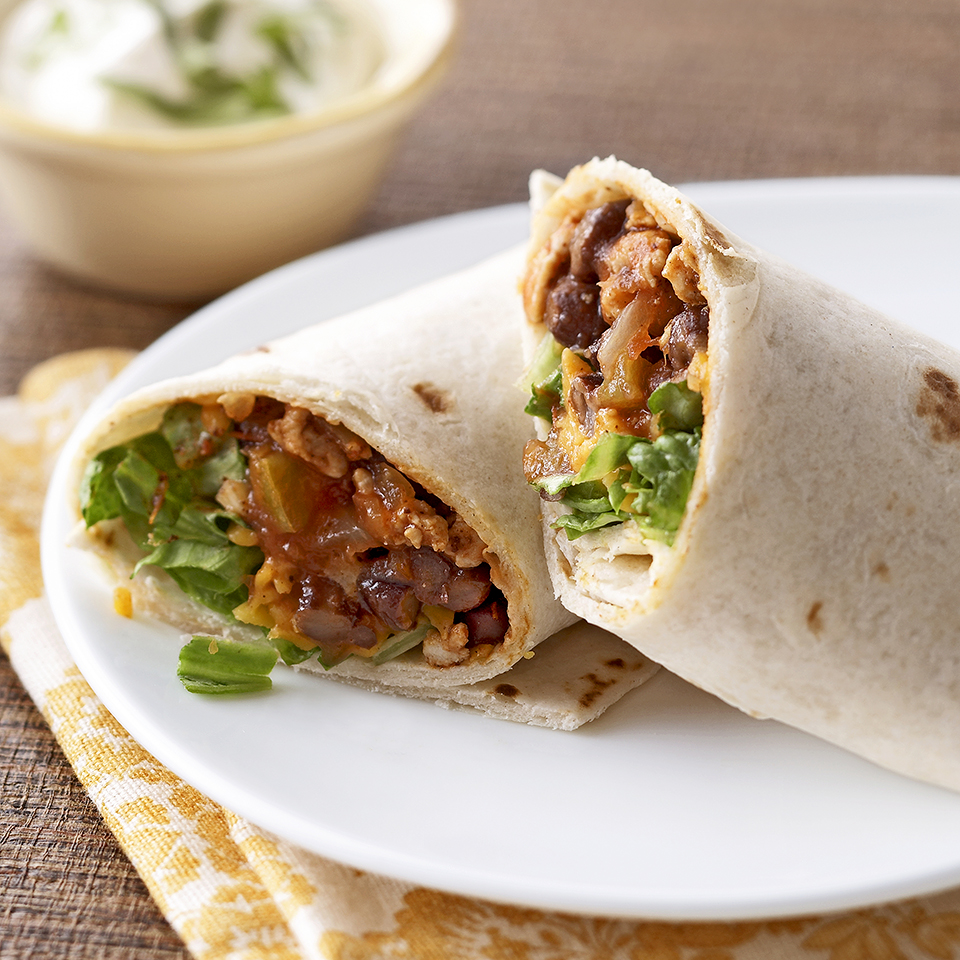 If you get tired of wraps then treat yourself to a Mexican-style burrito to load up on protein and carbs before heading to the gym.
Turkey breast, cheese and lettuce will complement the whole-wheat tortilla perfectly and give you all the goodness and protein your body is crying out for.
Protein Per Serving: 38g
Ingredients
Turkey breasts (4, sliced into strips)

Salt-free Mexican-style seasoning (1/2 tsp)

Whole-wheat tortilla

Sour cream (1 tbsp)

Lettuce (1/4 cup, shredded)

Salsa (3 tbsp)
Directions
Toss your turkey and seasoning in a bowl until well-mixed

Heat non-stick pan on MEDIUM. Mist the pan with cooking oil and toss in the turkey

Place strips in a bowl and cover

Add tortilla to pan, cook 30-60 seconds per side

Put tortilla on plate, smear on soured cream

Top with cheese, lettuce, turkey and salsa

Fold and serve
4. Turkey Chili with White Beans
This recipe not only serves up the nutrients you need but is remarkably easy to prepare.
Don't be put off by the long list of ingredients. Canned produce will reduce your prep time and once you have mastered a chili you can experiment with different meats and flavors.
Protein Per Serving: 27g
Ingredients
Canola oil (1 tbsp)

Onion (2 medium)

Chili powder (1 1/2 tbsp)

Garlic (1 tbsp, minced)

Cumin (1 tbsp)

Oregano (1 tsp)

White beans (3 cans)

Chicken broth (4 cups)

Cilantro (1/3 cup)

Fresh lime juice (2 tbsp)

Salt and black pepper
Directions
Heat oil MEDIUM HIGH

Add onion, sauté 10 mins

Pop in chili powder, cumin and garlic, sauté 2 mins

Pour in broth, simmer 20 mins

Blend bean mixture (2 cups) and pop in the pan

Add turkey and cook 5 mins

Remove from heat

Add cilantro, tomato, lime juice

Season and serve with rice or naan bread
5. Grilled Salmon & Pineapple Salsa
via https://www.gardenoflife.com/
Salmon will provide you with protein and other valuable nutrients not found in white meat. Omega-3s are a crucial part of a healthy diet and salmon bristles with these fatty acids.
Fresh pineapple is the perfect foil and this recipe is guaranteed to get you coming back for more.
Protein Per Serving: 26g
Ingredients
FOR SALMON
Pineapple juice (1/2 cup)

Soy sauce (2 tsp)

Salmon fillets (2)
FOR SALSA
Pineapple (1 cup, diced)

Cucumber (3/4 cup, diced)

Spring onion (1, sliced thinly)

(3 cans)

Cilantro (1 tsp, minced)

Chili powder (1 tsp)

Cumin (1/4 tsp)

Salt and black pepper
Directions
Put soy sauce and pineapple juice in dish. Add salmon. Refrigerate 60 mins

Chop salsa ingredients and place in bowl. Set aside

Pre-hear grill MEDIUM HIGH then cook salmon 2-3 mins each side

Serve with green veg and top with salsa
6. Salmon with Bok Choy
This glazed salmon dish will give you an intense burst of sweet, sour and spicy flavors.
The lime-tinged hoisin sauce will help keep the fish moist and juicy.
This can be plated up in just 20 minutes. If you are watching your carbs then switch out the rice for salad.
Protein Per Serving: 38g
Ingredients
Salmon fillets (4)

Carrot (1/2 cup, grated)

Bok Choy (2 cups, thinly sliced)

Red bell pepper (1/2 cup, sliced)

Dark sesame oil (1 tsp)

Rice vinegar (2 tbsp)

Sriracha (1/2 tsp)

Cashews (1/4 cup)

Hoisin sauce (2 tbsp)

Fresh lime juice (1 tbsp)

Garlic (1 clove, grated)

Cooking spray

Brown rice (2 cups) or salad
Directions
Place bok choy, carrot, pepper, rice vinegar, sesame oil and Sriracha in bowl. Combine and sprinkle with cashews

Pre-heat pan in oven and pre-heat broiler to HIGH

Pop hoisin sauce, juice and garlic in bowl

Sprinkle salt over salmon and coat with the cooking spray

Broil salmon 6 mins

Brush with half hoisin mix, broil 2 mins

Brush salmon with rest of hoisin mix

Serve with rice or salmon
Now you should be well aware of the increased need for protein if you are active and enjoy working out.
While you do not need to go totally over the top, make sure that you exceed the RDA for protein if you want to notice worthwhile results from your exercise. Keeping in shape is a mix of what you do and what you eat.
Enjoy these recipes, explore our site and come back for more appetizing and protein-rich treats!